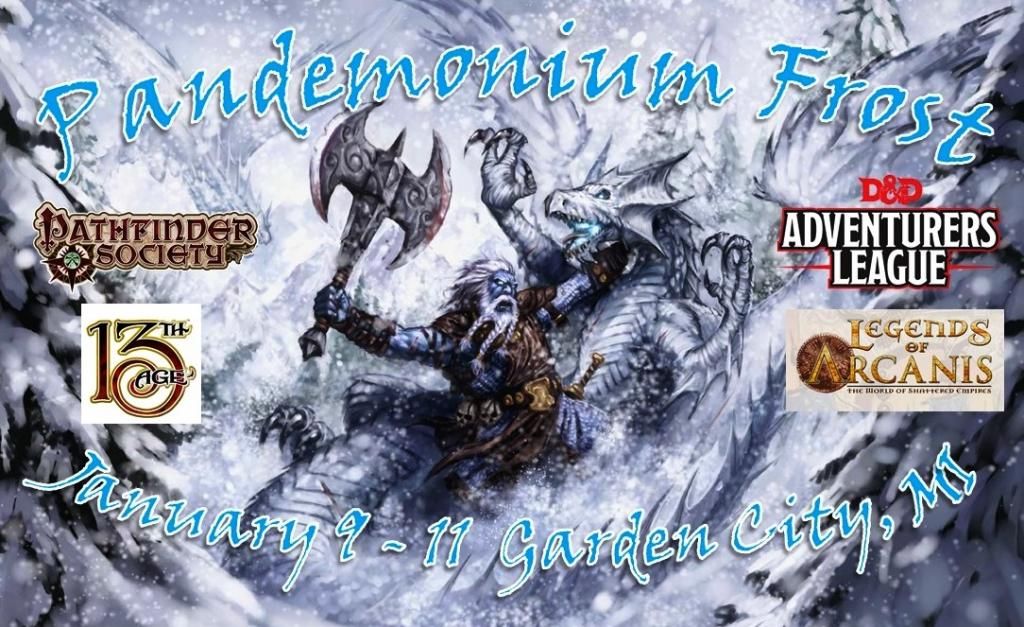 You are invited to 
Pandemonium Frost
, a convention dedicated to tabletop RPGs!
We'll have events for 
D&D Adventurer's League, 13th Age, Legends of Arcanis and Pathfinder Society
, naturally. In fact, if you have a tabletop RPG system that you'd love to present (that fits into one of two slots) then contact us and we'll put it on the schedule! Paranoia, Shadowrun, Call of Cthulhu, Savage Worlds, whatever tickles you. If you love it you'll be in good company!
Sign-up is on 
Warhorn
, follow the link above. You may notice the other campaigns don't have events posted yet. Be patient, they are marshaling their forces. Only a few days have passed since the schedule was created, and organizing in the vacuum created by U-Con and Thanksgiving presents special challenges. By January I expect that our appetites will again be whet!
The call for GMs has gone out. In case you were overlooked, please feel free to sign up on 
Warhorn
. I ask that 
no one sign up to GM more than two slots
, unless you want to claim a 3-part series. If you have any quesyions, please e-mail me or post to
this thread
.
Doug Miles
VL/Detroit PFS Lodge
This email address is being protected from spambots. You need JavaScript enabled to view it.
Please note: Pandemonium Games is moving to a new location this winter. The address hasn't been revealed yet, but is reported to be a few blocks north of the current location on Middlebelt Rd. There will be more gaming space and a much, much larger parking lot! I will post the address here when I get confirmation.